Disclosure :: there are affiliate links embedded in this post. 
As an elementary teacher and aspiring librarian, I've noticed that young students share an innate love and appreciation for our planet, its fragile environments, and the well-being of animals and plants who also call Earth home. Thankfully there are an increasing number of books designed to inspire (and inform) young environmentalists — and what better month to explore these topics than April? April 22nd is Earth Day — but did you know that April is also School Library Month?!
Here are some of my favorite Earth Day books for young readers (in no particular order):
We are Water Protectors (2021)
Ages 3-6 
Written by Carole Lindstrom; illustrated by Michaela Goade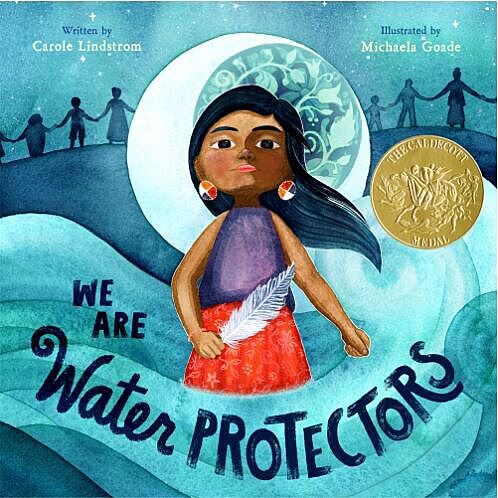 A young Native American girl narrates the unforgettable, rhythmic prose of We are Water Protectors. "We come from water. It nourished us inside our mother's body. As it nourishes us here on Earth. Water is sacred…." The narrator soon explains that her people worry about a "black snake" threatening to "spoil" the water and ruin Earth. (Michaela Goade's magical illustrations soon reveal that this "snake" is actually a metaphor for the Dakota Access Pipeline, which threatens to pollute the drinking water of the Standing Rock Sioux.) We are Water Protectors encourages people, young and old, of all backgrounds, to take a stand to defend water, Earth's treasured resource.
I love that this book can be enjoyed by children with or without the political context; water unites us and needs protection, everywhere.
For readers wanting to learn more about The Dakota Access Pipeline (DAPL) and Standing Rock Sioux, the end pages of the book include more detailed facts. These pages also include a glossary of indigenous words and more information about the author and illustrator's Native cultures (Lindstrom is a member of the Turtle Mountain Band of Ojiwbe; Goade belongs to the Tlingit and Haida Indian tribes of Alaska). My students also loved signing the "Earth Steward and Water Protector Pledge" on the last page of the book.

One Well: The Story of Water on Earth gives readers the science and facts behind our planet's water crisis. As a teacher, I love coupling this book with We are Water Protectors– starting with Lindstrom's text first.
One Well also inspires on its own — the book is based on the idea of imagining Earth's water supply as one large global well that all countries share. Different sections in the book, such as  "Animals at the Well," "Access to the Well," and "Pollution in the Well," can be read in isolation, over several readings, so young readers don't become too overwhelmed by the wealth of facts presented in graphics, captions, and narrative text.
The end of the book includes a note to parents, guardians, and teachers for tips on how to support young environmentalists, encourage their curiosity, and take action.
Ages 4-8 
By Jeanette Winter
This biography tells the true story of Wangari Maathai, a Kenyan environmental activist and the first African woman to receive the Nobel Peace Prize. Maathai's brave actions– planting nine tree seedlings in rural Kenya, where widespread deforestation is taking place, and later inspiring thousands of women to do the same– are told in simple, inspiring words accompanied by Winter's signature vivid, child-like illustrations. A short author's note at the end of the book explains Maathai's impressive biography in more detail. 
Maathai's compelling story, told by a truly gifted children's biographer, is sure to delight and inspire young environmentalists everywhere. Every time I read this book to students, several excitedly tell me how it inspired them to plant new trees in their communities. 
Ages 3-6 
Written and Illustrated by Todd Parr 
Todd Parr's vibrant illustrations and simple, playful language promise to engage emerging readers as well as elders; in libraries, I see parents, adolescents and children flock to Parr's books in equal measure. In The Earth Book, Parr gives readers everyday examples of easy things to do to help out Earth ("I take the school bus and ride my bike to school because… I love the stars and I want the air to be clear so I can see them sparkle"). The narrator reminds readers of the importance of taking these easy actions "because I don't want to move to Mars!"
Parr's book includes a "Go Green" poster with a list of everyday actions we can all take to help out our planet such as saving leftovers, being kind to worms, and using both sides of paper.
One Plastic Bag : Isatou Ceesay and the Recycling Women of the Gambia (2015) 
Ages 5-9 
By Miranda Paul; illustrated by Elizabeth Zunon 
This nonfiction narrative tells the story of how plastic bags threatened the health and well-being of the rural village of Njau, Gambia and how a local woman (Isatou Cessay) took a brave step to stop it. In the 1990s, plastic bags began piling up as trash all around the village, causing outbreaks of malaria, early deaths from livestock (who ate the bags), and pollution concerns (from burning the garbage). Cessay designs a way to cut the bags into strips of thread and crochet them into purses to be sold in a nearby city, and later recruits a group of women to help her. As a result, Njau becomes much cleaner and profits from the purses are used to build a community environmental education center. 
Paul's informative narrative is told in simple, inspiring prose with Wolof language sprinkled throughout. Zunon's art (which includes collages of plastic bags that appear three-dimensional) allows readers to truly envision Cessay's world. The end of the book includes a Wolof glossary and pronunciation guide, an author's note explaining the more detailed history of environmental efforts in the region, as well as regional maps and a timeline. This is truly one of my favorite books to "activate activism" with young children, while also sharing culture and history of the Gambia with them. After reading this book, students often proudly tell me how they've started using reusable bags instead of plastic or how they plan to reuse the plastic bags instead of throwing them away. 
Dear Earth… From Your Friends in Room 5 (2020) 
Ages 4-8 
Written by Erin Dealey; illustrated by Luisa Uribe
Dear Earth features a monthly letter correspondence between the students in Room 5 and Planet Earth. Diverse, detailed illustrations accompany readers as we experience a full calendar year of letters and events.  Each month, Earth writes back in a nurturing, endearing way, giving the young environmentalists (whom she starts calling "Earth Heroes") ideas for how to help conserve energy, cut down pollution, and be a better citizen of the world. The end of the book includes a letter from the author to readers (also called "Earth Heroes"), detailing the dangers of fossil fuels and the need for renewable energy. A "How to Help" section gives easy ideas for how to do the "4 Rs": reduce, reuse, recycle, and renew. The hardcover book's reversible jacket is a poster including twelve months of Earth Hero activities (perfect for displaying at home or in the classroom).
As a teacher, I love using this book to launch a letter-writing unit. What would you write to Earth if you could? What would you say, and how do you think she would respond?
One easy action to help Earth is to encourage your child to visit their school library and check out one of these above titles, or another Earth Day-themed book that piques their interest. Visiting the local public library or accessing Earth Day titles online as e-books is another environmentally friendly option. Whether online or in print, library books are always earth-friendly because they can be reused and enjoyed continuously by readers of all ages.